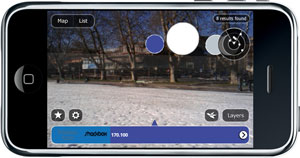 Shackbox is the most complete hamradio Linux live CD for amateur radio operators created by Hervé Pellarin. The Shackbox map project's main goal is to offer the most complete frequency book in Mobile Augmented Reality. Hoppala provided the backend technology to run the Shackbox Mobile AR application in Layar.
There is a simple process in place to contribute to Shackbox. Add your own frequencies to a crowd sourced data pool using a map tool and there's even a tutorial available. Explore frequencies in your vicinity with Shackbox for Layar.
Shackbox is running on Hoppala layer server technology.
Gallery
Visit the Hoppala Shackbox gallery on Flickr.