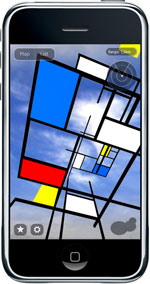 Hoppala provided the backend technology to our partner Superimpose to run one of the first 3D Mobile Augmented Reality applications for Layar: ARwalk Art 3D.
Superimpose again proved the awesomeness of 3D in Mobile AR. They hung up an upscaled version of this famous design by dutch artist Piet Mondrian (1872-1944) in the sky – in augmented space. Using your handset you can literally explore the three dimensional structures.
Superimpose's plans are to extend ARwalk Art 3D to become a complete virtual art guide in Augmented Reality connected to real world art installations, museums an galleries. The overall experience is enriched by mobile web pages to provide even more information.
Gallery
Visit the Hoppala ARwalk Art gallery on Flickr.