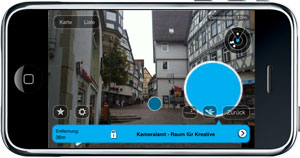 The Stuttgart Region Economic Development Corporation (WRS) published two more mobile augmented reality applications for regional industry cluster visualization today and proved professional usecases in mobile ar once again. Inspired by the great success of a very early Layar project back in summer 2009, the WRS decided to add creative industry and industry real estate data to the existing IT business information. With three mobile ar applications for Layar the Stuttgart Region Economic Development Corporation is one of the very early adopters of mobile ar in the professional business. Read more…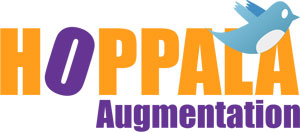 Add Twitter to your Layar augmented reality application with Hoppala Augmentation, the Layar content management system with built-in Twitter support. Customizable geocoded status updates allow for instant sharing of nearby augmented content. It's never been so easy to connect your mobile ar experience with Twitter.
Hoppala Augmentation provides an easy way for non-technical creatives to start experimenting with augmented reality and Layar. It seamlessly connects your mobile AR experience with Twitter with just a couple mouseclicks. All in an easy to use grafical web interface. Read more…

Dieser Artikel erschien zuerst in der Ausgabe 09/10 2010 der Zeitschrift Website Boosting aus dem Hotspot Verlag, Würzburg.
Augmented Reality wird zum Massenmedium des Mobilzeitalters, es ist das einzige Medium, das alle Komponenten moderner Smartphones gleichzeitig verwendet. Gerätehersteller und Netzbetreiber haben den Trend erkannt und bewerben Ihre neuen Produkte mit Augmented Reality Anwendungen. Die Inhalteanbieter konkurrieren um die besten Plätze. Read more…