With more than 4000 10.000 registered developers Hoppala Augmentation is the world's largest content platform for geo based augmented reality. Hoppala Augmentation is the "Dreamweaver" for AR. It seamlessly publishes your content to all three major AR browsers: Layar, Junaio and Wikitude. Create once and publish everywhere.
Hoppala Augmentation is the perfect entry point even for non-technical people to learn about augmented reality. University classes and workshops all around the world use Hoppala Augmentation to actually create AR content. The graphical web interface makes it very easy to build geo referenced content with just some mouse clicks, there is no software installation required and no coding needed at all. Learn more about this great example of an academic project based on Hoppala Augmentation: the San Diego's School in the Park, hosted by Patrick O'Shea, Assistant Professor of Instructional Technology at Appalachian State University, USA.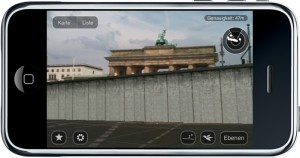 Hoppala Augmentation is the foundation of many of our own projects as well. The 3D reconstruction of the Berlin Wall at historical sites around Brandenburg Gate, Reichstag and Potsdamer Platz, right in the center of germanys capital, was built with Hoppala Augmentation. "Berlin Wall 3D" highlights as a great example of where augmented reality is headed, it was covered by german weekly magazin DER SPIEGEL (english), german TV news "Abendschau" and uncounted print and online articles. "Berlin Wall 3D" is one of the most popular mobile AR showcases throughout conferences and market analysis all around the world.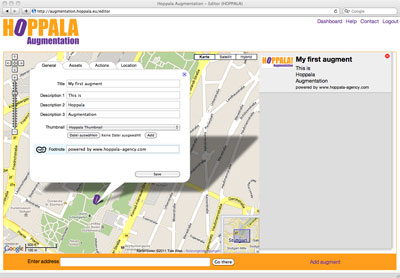 I presented Hoppala Augmentation and "Berlin Wall 3D" at ARE2011 and the O'Reilly Where 2.0 Conference in San Francisco Bay Area, at XMediaLab Sweden, at MobileMonday Berlin and many other events. I was on stage at ARWorld together with four times Emmy Award winner Dale Herigstad, held one of the three keynotes at MobileTechCon together with speakers from Google and Microsoft and presented Hoppala Augmentation and "Berlin Wall 3D" at the VW innovation ThinkTank 2bAHEAD.
I have talked to hundreds of our 4000 7000 registered developers over the last year. I learned what they built, I learned what they needed, I learned what worked and what didn't. And I got much advice on how to make Hoppala Augmentation even better. Many thanks for the great feedback go to all the Hoppala developers.