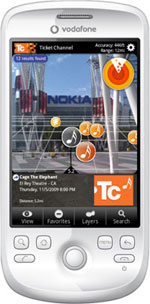 Hoppala developed a Mobile Augmented Reality application for U.S. ticketing service Ticket Channel. The Ticket Channel application for Layar is available for Google Android phones and Apple iPhone. It uses the mobile device's camera, GPS, and compass to access local points of interest allowing users to buy tickets immediately.
The Layar Reality Browser allows mobile users to panoramically scan their environments 360 degrees in real-time for live events in their city or neighborhood based on a selected radius and GPS location.
Under the hood we connected the Ticket Channel layer with the Ticket Channel backend systems to allow for accurate realtime data. The Ticket Channel layer is running on Hoppala layer server technology which does the whole data preprocessing work in the background. It takes care of realtime updates, data geocoding, image rendering and data delivery.
Ticket Channel facilitates the purchase and sale of tickets to more than 84,000 live events from over a 1,000 qualified suppliers throughout the USA. Search, find, and buy tickets for professional sports, music concerts, and theater performances. The Ticket Channel has an inventory of over 6.7 million tickets at all price levels – from bleachers to box seats, from the balcony to first row center. The Ticket Channel is updated in live-time as tickets are purchased and new tickets become available.
Gallery
Visit the Hoppala Ticket Channel gallery on Flickr.