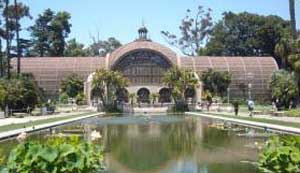 Patrick O'Shea, Assistant Professor of Instructional Technology at Appalachian State University, USA, created an awesome educational mobile AR game experiment for his classes in spring 2010. He created four beautiful stories with different characters and built a scavenger hunt like game-play around it. The AR part of the game takes place in the beautiful gardens of the San Diego Museum of Art. The whole setup and gameplay was powered by Hoppala Augmentation AR backend technology. We asked Patrick to comment on the project and tell us about the lessons learned with mobile AR technology.
Patrick O'Shea: "The Augmented Reality (AR) project in San Diego's School in the Park (SITP) is a novel approach to using this technology in educational settings. The foundation upon which SITP is built is the idea of taking students out of their traditional classrooms and bringing them to the museums in and around Balboa Park for their educational experiences. The beauty of this locale and the nature of the museums lend themselves to the use of AR technologies. The AR experience takes place in the San Diego Museum of Art and is based upon the Chinese Folktale called the Lord of the Cranes. As part of the indoor portion of the experience, students are asked to prove themselves worthy of visiting a famous restaurant that is central to the Chinese folktale. The outdoor portion of the AR experience asks the students to help the Empress plan a Chinese New Year celebration to take place in the same restaurant. Students assume one of four roles (Emperor, Traveler, Potter or Weaver), and interact with various academic tasks throughout the museum or within Balboa Park. If they successfully complete these tasks, they are then rewarded with a virtual visit to the restaurant.
Initial analysis of the AR experience has show tremendous student engagement and motivation to participate, and indicates that the process of using this tool helps the students to learn academic content. We are still on the precipice of understanding the true potential of these tools, but this project has demonstrated the potential exists and is worth further exploration."
We very much enjoyed working with Patrick and many thanks go to him and his team for using Hoppala Augmentation as the AR backend technology of choice in this academic educational project.