Hoppala Augmentation, the world's largest content platform for mobile augmented reality applications, expands beyond Layar exclusivity and adds support for Junaio and Wikitude mobile AR browsers.
Hoppala Augmentation provides an easy-to-use graphical web interface to create augmented reality contents with just a few mouseclicks. It provides a login and a full screen map interface, and images and 3D models can be easily uploaded to a personalized inventory. Created once, Hoppala Augmentation publishes your contents to all major mobile augmented reality browsers. In addition to previous support of the Layar augmented reality browser, Hoppala Augmentation also adds support for Junaio of the German AR company Metaio, as well as Wikitude by Mobilizy from Austria.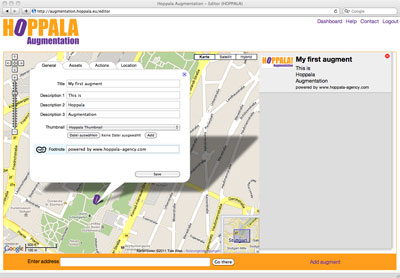 Publishing content on mobile AR browsers today still requires creating program code, and without any established standards, content creation not only becomes a technology decision, but even a platform decision as well. Hoppala Augmentation takes away the burdens of technology and platform requirements.
Hoppala Augmentation opens up mobile augmented reality to non-technical creatives as it takes away the hassles of technology. No matter if you set up a quick demo for the next pitch, build an AR application for your next event, or if you just want to explore this new technology. Hoppala Augmentation allows you to build your own personalized augmented reality experiences with just a few mouse clicks. There is no coding needed at all. Hoppala Augmentation also takes care of all the content preprocessing needed to enable seamless cross platform publication.
Concentrate on what you really want to work on. Build your contents and enjoy your work on Junaio, Layar and Wikitude. Try Hoppala Augmentation, the content platform for mobile augmented reality applications. Go to www.hoppala-agency.com.
Hoppala is certified Junaio developer, certified Layar developer as Germany's first member of the Layar partner network, and certified Wikitude developer. Hoppala is the only agency certified by all three major mobile augmented reality platforms. Download the Hoppala Augmentation presskit here.