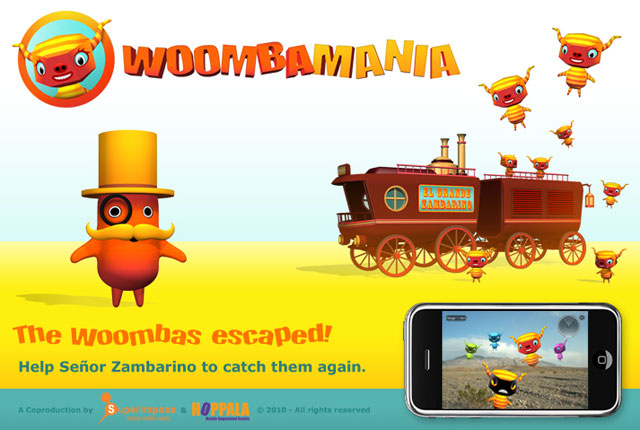 Whilst on a journey through the desert the Woombas – the main attraction of Senor Zambarinos traveling circus – managed to escape! El Grande Zambarino desperatly needs your help to catch them. In his indescribable generosity he'll pay you muchos pesos. We teamed up with our long-time partner Superimpose again to create this beautiful three dimensional game in Mobile Augmented Reality. It comes with a lot of eye candy 3D characters, a sensible story line and rich user interaction.

Woomba Mania is nominated for the Augmented Planet Readers Choice Awards 2010 in the category "Best Augmented Reality Browser Content". Vote for Woomba Mania here and win a fantastic Samsung mobile phone!
The gameplay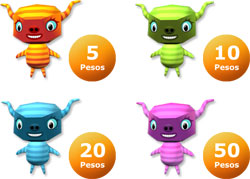 Look for Woombas around you and catch as many as you can. Especially look out for rare Woombas, they are worth more than the regular ones. But do avoid the Chookies! They are greedy little desert demons who can take any shape they want. Disguised as Woombas they try to steal your pesos! When you mistakenly touch them they'll take you as many pesos as you would get for catching a Woomba of the same colour. The only way to distinguish disguised Chookies from the real Woombas is by their black faces.
True AR gaming experience
The world is our gaming board. You really need to come close to a Woomba in order to catch it. And you really need to walk around a figure that turns its back on you to distinguish a Woomba from Chookie. You really can't play this on the couch. It's an augmented reality game! It plays in reality – except it's augmented! Sometimes you're lucky though and they all stare at you for a couple seconds.
Multi player gaming

Play this game with a friend on the field and make your Chookies hunt for him. Chookies always appear at the outer border of your vicinity and start to walk through your area on a radar diameter route. So make sure you step aside before they run into you. As you share the same game with your friend you might be tempted to lure your friend into your Chookie's way, but don't forget about your friend's Chookies. They might rob you as well! Enter your name at anytime to rank in the worldwide highscore list.
Different gameplay during day & nighttime

Between dusk and dawn Woombas might turn into Ghosts – and so might Chookies! You can try to catch them but you're never sure what's in for you.
Woomba Mania is a coproduction of Hoppala and Superimpose.
Gallery
Visit the Hoppala Woomba Mania 3D gallery on Flickr.